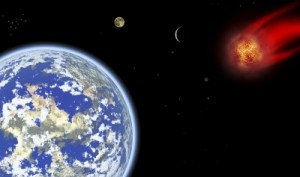 Image: FreeDigitalPhotos.net
There is a show on the National Geographic Channel called Doomsday Preppers. It was about a month or so ago I was channel flipping during the evening and landed on this show as the title caught my eye. The philosophy of this show is to prepare for any catastrophic event, such as major bad weather, an economic crisis or for the end of the world as we know it.
When watching this show and seeing on how some families are preparing, you cannot help sitting there and wondering to yourself, "Who Knew or would even have thought of something like this? What would I do if this type of scenario would actually happen and would I be prepared?" Some families build underground bunkers. Some use a Cargo Crate which is inexpensive, some go to the extreme and build a small underground bunker facility like city.
Cargo Crates are buried underground, hidden from site. This could be in someone's backyard or another remote location. It is in most cases setup with shelving to store beverages, food, medical supplies, weaponry and other necessities to survive. They try and make it livable by adding in some furniture, TV, a bath and try to make it as homey as possible. They would also need to stay in touch with the outside world while inside so maybe a CB Radio or some other form of communication equipment is generally on site. One important factor is also safe guarding their family and access to their "Bunker". Insuring a heavy steel door that can withstand a blast, gun shots and even fire.  Fear of a crisis and unprepared population to handle such a crisis would have intruders willing to do whatever they need to survive. Who knew that it could someday come to this point?
An underground bunker facility was pretty impressive and expensive. In one case, an old missile silo was being transformed into an underground city. They were called Silo Homes. Some could be built for one family but others had at least 6 levels of Condos,  Equipment Level, Aquaculture & Hydroponica Level,  Library & Classroom Level, Theater & Lounge Level, Workout Area Level, Pool Level and of course a Mechanical Level on the bottom floor. All this with a military style bunker cover entrance with a stainless steel door that can withstand a blast, gun shots and even fire to deter intruders and in some cases, a defense of flame throwers if anyone would breach the door. Well, all this does come with a price. Anywhere from 250K into the millions. Also, each occupant in this Silo City would be responsible and have a specific job to do to insure that the Silo is protected, maintained and running smoothly. Who knew that you can turn a missile silo into an underground city?? What a great idea.
At the end of the show, the National Geographic Channel evaluates all the setups with a rating and provides their own helpful insight on what they should do or enhance to be better prepared.
Some did not go to these extreme. There were some doing light prepping such as putting together a grab bag or also known as a Bug-out Bag. These bags are back pack style filled with necessities in case you needed to evacuate ASAP.  Some of the items include enough food & water for 72 hours, a First Aid kit, Fire Starting tool and a whole list of other items that can be found at http://en.wikipedia.org/wiki/Bug-out_bag.
So, with getting an idea of what Doomsday Prepping is about, Who Knew? Are you ready, prepared to protect yourself and your family? If you never watched this show, I would have to say you should catch a glimpse, it's worth a watch.